November 21, 2017
Uncategorized
McGuire Air Force Base to receive new hanger with assistance from Borbas Surveying and Mapping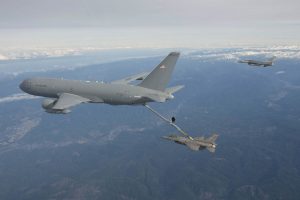 Earlier this year, $134.5 million was budgeted to improve the infrastructure at two of our nation's air force bases. One of the bases selected for new hanger development to house the KC-46 Pegasus refueling planes is at Joint Base McGuire-Dix-Lakehurst in New Jersey. Part of the development process includes surveying the airstrip and surrounding complex which is where Borbas comes in. Borbas Surveying and Mapping was selected for these services because of our ability for precision mapping and premium deliverables. Our work experience at McGuire goes back 24 years.
Like many of Borbas' projects, there were complications that many other firms would have great difficulty overcoming. There are security and access matters and difficult environmental conditions. It was challenging working alongside the massive jets at McGuire that have such powerful engines that can put our team members and equipment in harm's way. By working with air traffic management, we were able to ensure the safety of our personnel and our gear. Although there were many obstacles in our workflow, we were still able to complete the field work in our client's time frame.
Although our contribution may seem relatively small, all of the plans and construction will be based on this precise work. We hope that our involvement will impact the US Army Corps of Engineers and the Air Force to successfully complete this project in time and under budget. We are all grateful for this opportunity to provide support for our nation's defense.